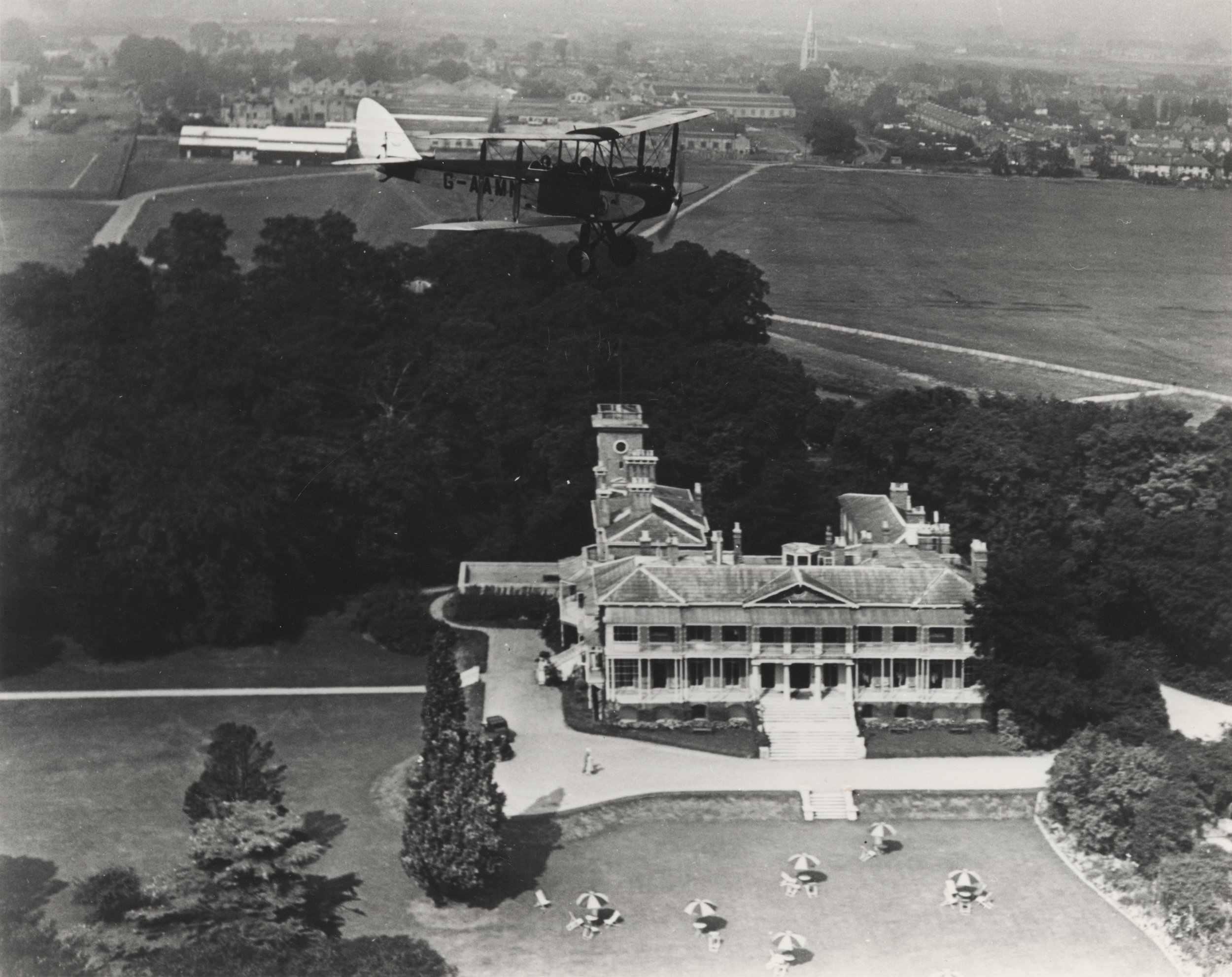 Wednesday 18th September - Friday 22nd November 2019, 10-4:30pm
A photographic exhibition 1917-47 of the Graff Zeppelin landing, Gibbs of Bedfont, Hanworth Airparks, Aston Martin, Ellington Road bombings in Feltham and more…
The Hub, next to Feltham Library, 2nd Floor, The Centre, Feltham, TW13 4GU
Please ask a member of staff to open The Hub
The act of pilgrimage is a search for something and a process of transformation.
Beginning in the summer heatwave in 2018 I came across the remains of a fire in the Hounslow heath. From there I began documenting the fire, at first with a camera phone and then through painting. I became interested in the surreal landscape created by the destruction of the heath, and the paintings became emotive records of devastation and negligence.
On visits thereafter, as the heath recovered the grass grew back vibrant against the black charcoal ground. I took photos of the charred fence posts and the dead trees. I came back later this summer revisiting the places I had painted. Almost all the signs of the fire had disappeared.
Fires are not ways bad for forested areas. They provide space for new plants to grow. Volunteering with the local groups I learnt more about the fire's potential origin: from glass bottles magnifying sunlight in the heat to someone starting fires on part of the heath deliberately.
Regeneration on Hounslow Heath takes on different media and focuses on the act of walking to document the changing landscape of an important area of public land. In a time when the rights and freedoms of borders are increasingly restricted, I am investigating the long-term investment in making work in public spaces. Looking at, among other texts, Wanderlust by Rebecca Solnitt, my practice is currently exploring how walking and performance can be used together as a right to activism.
Walking can function as a democratic process for making and experiencing art, a method of peaceful protest and an effective method of raising awareness. Outside and beyond the time frame of galleries, festivals and biennials, can we find a way to use performance and walking to articulate complex social and environmental issues? This exhibition is a continuing project that will look for alternative spaces in which to exhibit and adapt in response to this line of inquiry.
Gerald Curtis

Web: www.geraldcurtisperformance.wordpress.com
For three days only, four emerging female artists from across London will be exhibiting a variety of work including; sculpture, painting and film as part of Transitions: Changing States of Mind to coincide with World Mental Health Day 2019. Each artist will display work exploring the changing states of mental health including an individual's ability to adjust to society and to the ordinary demands of life and the wider impact this can have.
The exhibition will be held in the Redlees Gallery, a beautiful historic converted stables in the heart of Old Isleworth from 10am-5pm on Saturday 5th and Sunday 6th October. The private view will be held on Friday 4th October 6-9pm, where visitors will have the opportunity to meet the artists in person and discuss work on show. Special performances by singer Rebecca Dignan and spoken word artists on Friday 4th October from 7pm.
Rebecca Dignan, Multi-media artist, will be showcasing a series of hanging works which explore her two-dimensional repetitive geometric drawings that transition into three-dimension shapes giving a sense of diversity through structure, light and form. Playing with illusionary spaces, layering drawings and using solid tactile objectivity through oil painting with pockets of real life imagery.
Sushila Devi-Callaghan, Filmmaker and photographer, will be featuring a mixture of moving image and photography. Her work embodies the growth and progression of current day society and its preoccupation with a thirst for mass compliance; forming an unconventionally abstract combination of darkness and hope.
Nadine Fletcher will be showcasing kinetic sculpture, sculptural installation and text-based work exploring our ability to adapt to ordinary life and the authentic self that emerges from the subtle fragments of our darkest subconscious. Engaging both in sculpture and sculptural performance, in which the spectator becomes the spectacle, Fletcher uses childish objects fused together in a paradigm of innocent brutality.
Chilli Skinner employs craft as a process to highlight the subtleties that occur when one works with their hands. Materials and method often determine how she works and becomes a way of self-reflecting, meditating and rediscovering a sense of purpose. These new sculptures become representational of the activity that has occurred, emphasising the battle between human error and striving to reach unparalleled refinement.
Photography Exhibition
From Tuesday 14th May to the end of May 2019
The Arts Centre, Hounslow
Feltham Festival 2019 Exhibiton
Wednesday 1st May – Wednesday 29th May
Where: The Hub, Feltham Library, The Centre, Feltham, TW13 4GU
Enjoy this colourful display of printed art works, depicting events and activities taking place across the 2019 Feltham Festival. On display for one month, these images have been created by young people who attend Rivers Academy and local artists. Funded by Inspire Hounslow.
FREE
A photographic exhibition 1917-47 of the Graff Zeppelin landing, Gibbs of Bedfont, Hanworth Airparks, Aston Martin, Ellington Road bombings in Feltham and more…
The Hub, Feltham Library
Until Monday 10th December 2018
As part of Feltham Festival 2018
Beginning its tour in Feltham, celebrating the famous Freddie Mercury, former Feltham resident and lead singer of the iconic rock band Queen, artist Sarah Hubacher and pupils from River's Academy have worked together to produce pixelated light box artworks.
This exhibition is now at Gunnersbury Park and Museum's
'People and Space Gallery'
Saturday 8th September for 3 weeks

29th-30th September 2018
The Gardens of Swan House,
Island House, The Tides, Moreton House & Longmeadow W4 2PS
#WhoNewArtTrail2018
FESTIVAL BROCHURE PRINT EXHIBITION
The Hub, next to Feltham library, The Centre, Feltham
endED friday 12th august 2018
A series of beautiful vibrant screen printed works are on display for three weeks. These images were created to feature as the design of the Feltham Festival brochure 2018. Produced by young people from across the borough through the Hounslow Interim Education Centre and Youth Offending Team.
Royal Botanic Gardens Kew
Patterns in Nature
Contemporary textile exhibition featuring work inspired by Kew's rare and endangered plants
Tuesday 8 – Friday 11 May
10am – 4pm
Library, Art & Archives
Royal Botanic Gardens, Kew Surrey TW9 3AE
Free entry to the exhibition
(Tickets required to visit the rest of the Gardens).
Patterns in Nature features artworks created by participants from Morley College and Feltham Arts, Hounslow. Taking inspiration from Kew's plant collections, the Temperate House restoration project, and Kew's extensive archives, participants used a variety of mixed media and 3D printing technology to create a series of art works exploring contemporary textile designs and approaches.
Film and Video Umbrella were at Osterley Park and House until 23 February 2018 touring the exhibition which staged contemporary artists' moving image within historic buildings across the country.

The national tour featured six artists who all live in, work in, or retain a connection to Bangladesh, India or Pakistan and make work related to South Asia. Presented in 2017, during the 70th anniversary of Indian independence, these artists' works cover a range of contemporary perspectives and situations, from international migration and border-transcending environmental impacts, to the individual who navigates and responds to shifting social and economic circumstances.
Credit: Residue, Desire Machine Collective, installed at Osterley Park and House as part of Changing Places. Image © Hydar Dewachi.
Credit: Dust to Dust, Imran Channa, installed at Osterley Park and House as part of Changing Places. Image © Hydar Dewachi.
For more information www.fvu.co.uk/whats-on/
PHOTOGRAPHIC EXHIBITION
CORRI CELLA AT THE HUB, THE CENTRE, FELTHAM